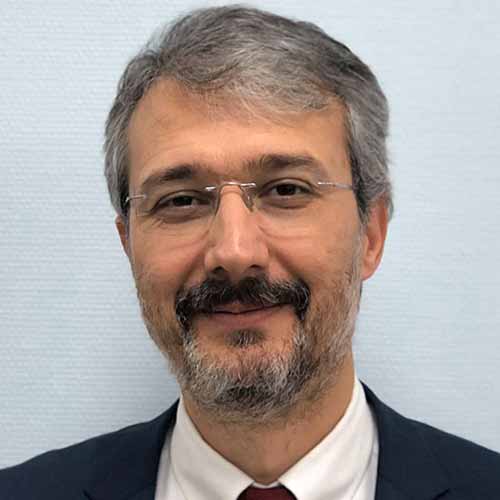 Istanbul University, Cerrahpasa Medical School
Radiology Department,
Division of Neuroradiology
KMP 34300 ISTANBUL TURKEY
E-Mail: osmank(at)istanbul.edu.tr
Phone: +90 212 414-30 00/22724 / Fax: + 90 212 414 31 67
Osman KIZILKILIÇ is an interventional radiologist from Istanbul University-Cerrahpasa Medical Faculty, that underwent a diagnostic and interventional neuroradiology fellowship in the same hospital between 2000-2002. His research work over the last 20 years was focused on improving cerebral aneurysm treatment and revascularization procedures including the the acute setting. Dr Kizilkilic is currently the head of radiology department and neurradiology division of Istanbul University-Cerrahpasa Medical faculty, he is one the organizer of WLNC (World Live Neurovascular Course). He is the board member of TSNR (Turkish Society of Neuroradiology) and iCure Stroke. He is board certified Neuroradiologist, Interventional Neuroradiologist and Pediatric Neuroradiologist (ESNR, ESINR, ESPNR) and board certified Interventional Neuroradiologist of CIRSE (Cardiovascular Interventional Radiologic Society of Europe). Dr. Kizilkilic is a member of steering committee of ESNR. He contributed to quick and correct diagnosis of the stroke in the emergency department. He is share-holder o HEVI Innovative Artificial Intelligence-Based Solutions for Medical Imaging.
POSITION
2007-present

Istanbul University Cerrahpasa Medical Faculty, Chair of Radiology Department and Neuroradiology Division
EXPERIENCE
2002-2007

Assistant Prof. of Radiology, Baskent University

2007-2012

Assoc Prof of Radiology, Istanbul University, Cerrahpasa, School of Medicine; Department of Radiology.

2012-present

Prof of Radiology
EDUCATION
1990-1996

Uludag University, Medical School, Bursa

1996-2000

Radiology Resident, in Haydarpasa Numune Hospital

2000-2002

Neuroradiology Fellowship Istanbul University, Cerrahpasa School of Medicine; Department of Radiology
INTERESTS
Atherosclerosis of the cerebral vessels
Intracranial stent and stent-graft using
Endovascular treatment of the cerebral aneurysms
Head and Vascular Malformations
COURSES ORGANIZED IN INTERVENTIONAL NEURORADIOLOGY
Turkish Live neurovascular course 1998-2005
ACINR ( Anatolian Course of Interventional Neuroradiology) 2006
ACINR( Anatolian Course of Interventional Neuroradiology) 2007
ACINR( Anatolian Course of Interventional Neuroradiology) 2008
Cerrahpasa-Helsinki Interventional Neuroradiology & Neurosurgery Workshop-live case course 2008,2009
LINNC-ACINR 2009 (Paris)
LINNC-ACINR 2010 (Istanbul)
LINNC-ACINR 2011 (Paris)
ACINR 2012 (Istanbul)
WLNC 2013 (World Live Neurointerventional Conference) (Istanbul)
WLNC 2014 (World Live Neurointerventional Conference) (Buenos Aires)
WLNC 2015 (World Live Neurointerventional Conference) (Chicago)
WLNC 2016 (World Live Neurointerventional Conference) (Shanghai)
WLNC 2017 (World Live Neurointerventional Conference) (Los Angeles)
WLNC 2018 (World Live Neurointerventional Conference) (Kobe)
MEMBER SHIPS
Turkish Society of Radiology
Turkish Society of Neuroradiology
European Society of Neuroradiology
EDITORIAL BOARD
The Journal of Diagnostic and Interventional Radiology 2005-Present
World J Radiology
Bakırkoy J Medicine
EDUCATIONAL ACTIVITIES
Founder and Organizer of Diploma Program for Turkish Society of Neuroradiology
European Society of Neuroradiology Steering Committee Member
BOARD DIPLOMAS
EBNR- European Society of Neuroradiology
TSNR- Turkish of Society of Neuroradiology
CIRSE- Cardiovascular Interventional Radiologic Society or Europe
TSIR- Turkish Society of Interventional Radiology
EDPNR- European Diploma for Pediatric Neuroradiology